Healthcare Facilities are Noisy
From large to small in-patient healthcare facilities where a quiet environment ensures better rest and recovery, and where protecting the privacy of patient information is the law, Lencore can provide an improved acoustic environment to help meet the necessary performance objectives.
Lencore systems are designed for patient comfort, communication and privacy and can offer individual, personalized volume control capabilities for sound masking in patient rooms, localized or nurse station controls, and global system controls that can be managed manually, remotely or through a network.
For oral privacy and improved patient comfort and satisfaction scores, Lencore sound masking  systems provide patients, doctors, nurses, staff and visitors peace of mind.
CHALLENGES
Healthcare environments can be acoustically challenging with hard surfaces and the absence of many absorptive and blocking materials. Noise sources are many and they are often too loud.
Communication between doctors and nurses and their patients happens 24/7, as does a tremendous amount of other noises like machines beeping and carts rolling down the halls. These noise levels impact patient recovery times and their ultimate satisfaction with a hospital stay.
Low patient satisfaction scores (HCAHPS) may affect the level of reimbursement from The Center for Medicare & Medicaid Services (CMS).
Noise also makes speech privacy a concern, especially when legislation like HIPAA (the United States' Health Insurance Portability and Accountability Act) requires that healthcare entities take all reasonable safeguards to protect verbal communication.
"Since the installation of the masking, patients have commented about how quiet the heart center is and how well they slept."
Ready to see if it's right for your healthcare facility?
We're happy to help give you more details about pricing, requirements and more. Our no-pressure staff and engineers can help you with any questions you have.
Click below to connect with our team.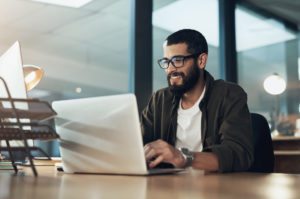 Walgreens wanted a fresh start with their new workspace spanning multiple floors of a historic Chicago building, once known as the world's largest post office. The massive structure that stood unused and empty for nearly a quarter of a century is being transformed into new downtown office space with 15-foot high windows, 20-foot-high ceilings and cool amenities such as a bocce court, a quiet library lounge,  a 3-acre rooftop garden, and smart elevators.
Read More »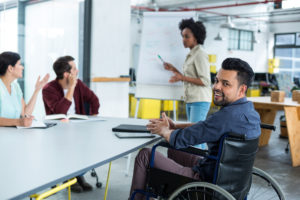 IndependenceFirst is a non-profit agency directed by, and for the benefit of, persons with disabilities, primarily serving the four county metropolitan Milwaukee area. IndependenceFirst renovated a building in the historic 5th Ward of Milwaukee,
Read More »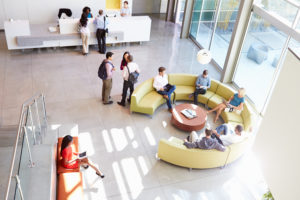 Kaiser Permanente – the largest non profit health plan serving over 8.6 million members with 2008 revenue of $40.8B – was looking to improve their medical office building standard, in particular for exam rooms.
Read More »