Hospitals host a unique set of noise management and communications challenges. Let's take an example layout of a facility to demonstrate how Lencore's solutions address common acoustical problems.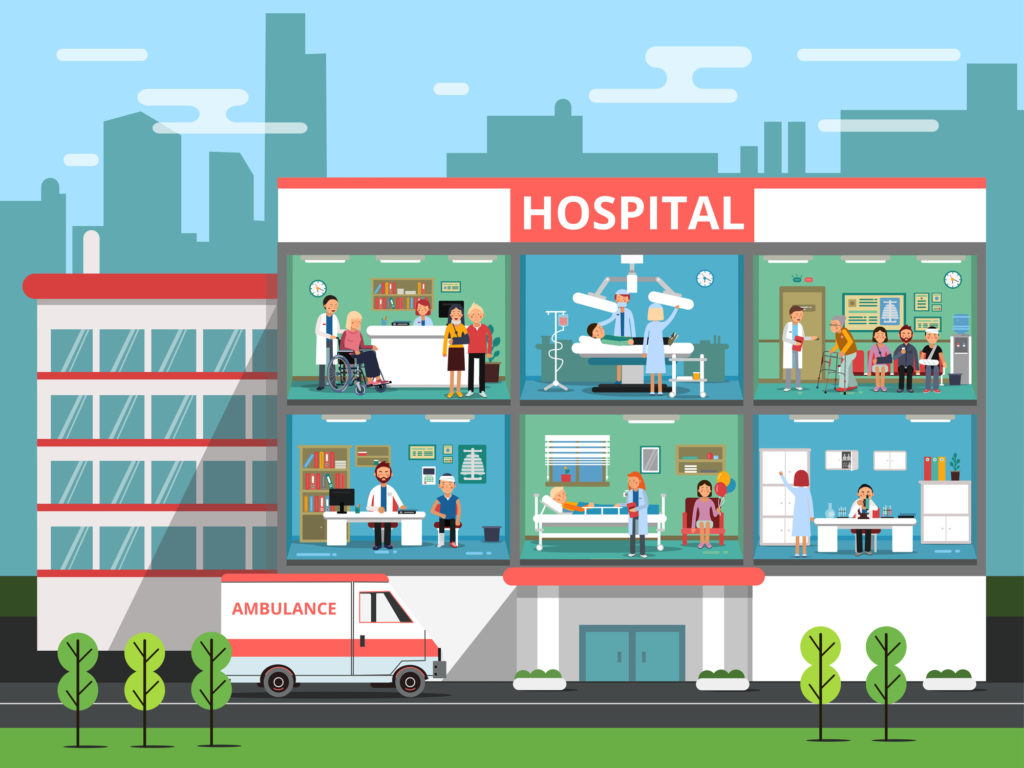 Waiting Rooms and Reception Areas
The window in the waiting room at the ER is the first place many patients go when seeking medical care. It's also the first place where they begin to share sensitive personal information. From the symptoms that caused them to go to the hospital in the first place to their social security number, essential information should be shared in confidence without other patients or staff overhearing. Lencore's state of the art sound masking technology ensures patient information stays private, and the rest of the waiting room remains comfortable with integrated background music.
Triage, Pre-Op, Recovery, and Examination Rooms
The nurse pulls the medical cart over to the bed, draws the curtain, and then begins asking a battery of questions about the patient's symptoms, medical history, and personal identifiable information. She's doing her job, but whether she knows it or not, she's doing it with an unintended audience – the other patients, family, and staff in the triage area. Not only does this environment violate HIPAA regulations, it also makes for a terrible patient experience. Lencore's scientifically formulated Green Sound™ in sound masking systems can help facilities obtain auditory privacy in the settings that require it most.
Did you have a restful night's sleep? Not only does the answer to this question impact a hospital's HCAHPS scores, it also impacts how effectively a patient recovers and is one of the most important factors in determining patient satisfaction for in-patient stays. A noisy hallway or a roommate on a different sleep schedule can have adverse effects on patient comfort during their recovery. Lencore's noise management solutions are designed to provide a healing environment that allows patients to rest by diminishing noise disruptions.
Patient safety, care, and comfort are the top priorities of the nursing team. It's important to effectively communicate between nursing stations and patient rooms, and to ensure nurses hear where and when they're needed without unnecessary distractions interrupting a patient's rest and recovery. Lencore's sound masking and noise reduction technology allows for the integration of nurse call systems and can also originate zoned paging and recorded messaging.
Sound masking in patient rooms also aids in keeping conversations between nurses, doctors, and patients private, complying with HIPAA policies, and increasing patient satisfaction and comfort.
Medical Records and Billing
Conversations with patients and among medical office staff includes sharing a trove of patients' personal information. These conversations must remain private in order to comply with HIPAA policies and as a matter of good business practices. By introducing Lencore's sound masking technology into the medical records and billing areas of a healthcare facility, you can increase speech privacy and help to protect patient confidentiality.
Speak to one of our healthcare specialists today to learn more about how Lencore can solve the noise and communication challenges of your healthcare facility.
Ready for a quick quote? Get started here.